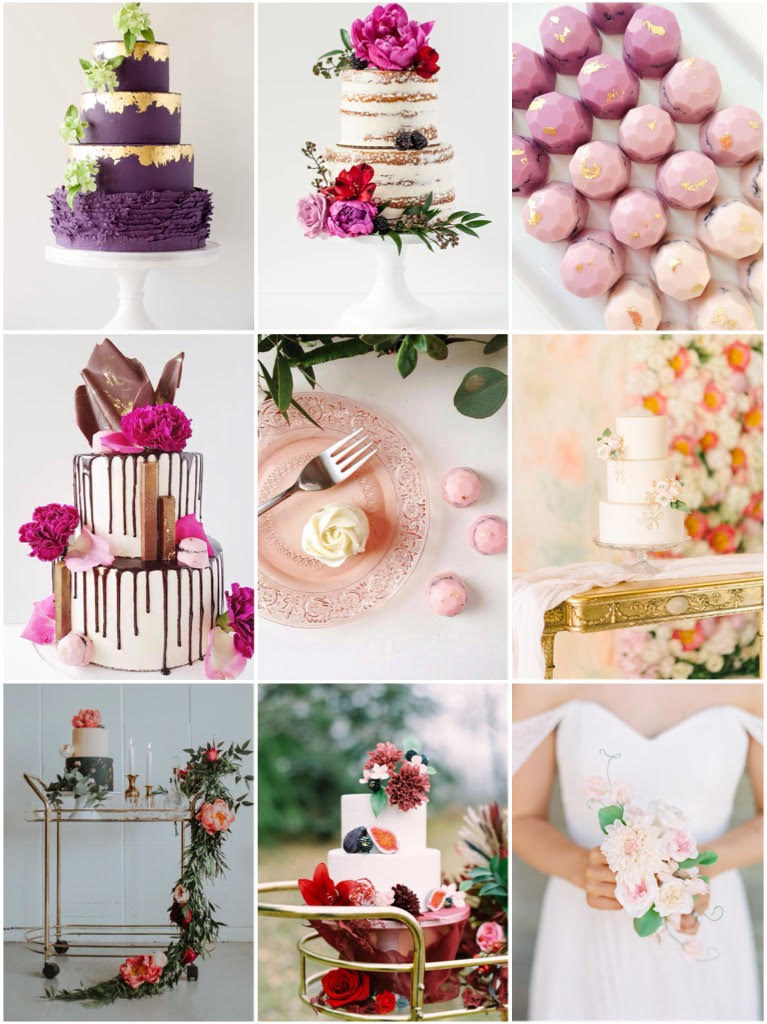 Hello lovelies!!  Happy Holidays!
Aristotle said, " pleasure in the job puts perfection in the work".  With a job such as ours, its so easy to find pleasure and really makes things enjoyable!  But it would be impossible without the amazing people that we have had the pleasure of working with this past year – for putting your faith and trust in us and allowing us the creative freedom to truly bring your visions to life.
As 2016 comes to a close we've been reflecting on the year and wanted to share some of our favorite moments:
1) Looking back, our first wedding of 2016 was so nerve wracking (like, first day of school nerve-wracking!!)…the design, the planning, the build up and the logistics, etc.  But, it all came together and we kicked off the wedding season with what is now one of our favorite cakes ever: a bold, beautiful and dramatic cake complete with edible 23K gold and sugar flowers.
2) If it Ain't Broke, Don't Fix It! or so the saying goes, right?!  The semi-naked cake trend held strong in 2016 and this was one our favorites to make…we just love the color palette and the rich jewel tones, but really who doesn't love peonies?!!
3) We connected with some talented vendors and amazing brides in an intimate setting while snacking on some sweet treats at Local Love: A Modern Pop Up, our first ever bridal "show".  The boutique style of the event really allowed us to make real connections.  In fact, we developed a friendship with one of the couples that we met that day and actually attended their wedding in mid summer!  We'll be back again at Local Love in 2017 and have some exciting things planned!!
4) The 2nd Annual United Way x DKNY Gala by far was one of favorite moments this year!!  This event hosted by Miss Sarah Chan gave us the opportunity to give back to our community in a fun and unique way!  All proceeds raised were donated to All in For Youth, a collaborative initiative supported by the United Way!
5) A special thanks to the lovely ladies behind Made Social, a modern crafting community that brings people together to meet, mingle, and make stuff.  We're always looking forward to the next workshop and are always intrigued, willing to push our creative boundaries and inspired to create!! 
6) 2016 saw us cross international borders with travel destinations to Washington, D.C. and Annapolis, MD for an editorial shoot working with Claire Duran Weddings and Events and Intrigue Designs for a floral workshop: 2 Days With Intrigue.  We feel so blessed to have met and collaborated with such wonderful individuals and to have this lavish shoot subsequently featured on Inspired by This.
7) We were so incredibly humbled and excited to partake in the Blush Magazine Fall/ Winter Cover Shoot. And, if we're being completely honest, we probably showed this 4-page spread to our parents, friends, extended family (basically anyone!!) about a hundred times.  Don't let anyone tell you otherwise, but it's always gratifying to see your work in print!!
8) Wedding Sparrow Publication is an oldie, but a goodie!!  This shoot is very near and dear to our hearts as it was one of our very first shoots!!  This shoot actually took place in the fall of 2015 and although we had to sit on this one for awhile, it was totally worth the wait!
9) It's not often that cake girls plan and coordinate an editorial shoot.  With a specific vision in mind for this editorial, we needed someone to bring it to life, not only to make it look pretty but to tell a story as the images unfolded.  We're so grateful to Teal of The Well Styled Life for her styling genius, the super talented Justine Milton for capturing it all and to the rest of the team who trusted in our vision!  Can't wait for you guys to see this one when its published!!
This year has been unreal and we're so excited for what's to come in 2017!!